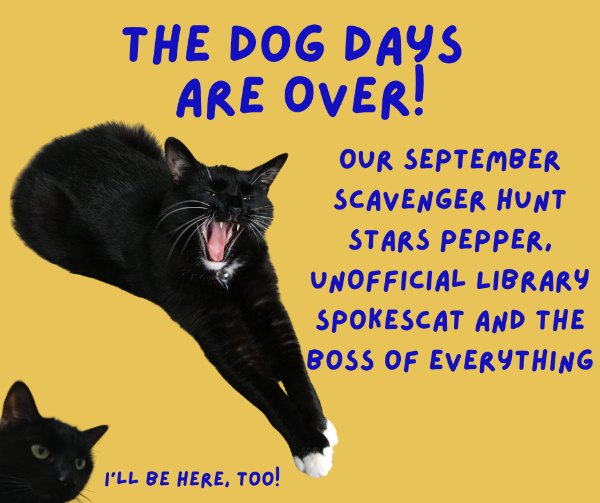 The dog days are over! September begins with a new scavenger hunt for kids in our children's room starring PEPPER, unofficial library spokescat and official boss of everything. Pepper challenges kids to find all ten of her pictures in the children's room to win a prize from the library treasure chest. Find her tiny timid sister Raven to win a bonus prize. Pepper's Cat in the Hat (no, not that Cat in the Hat) Scavenger Hunt continues all September during regular library hours.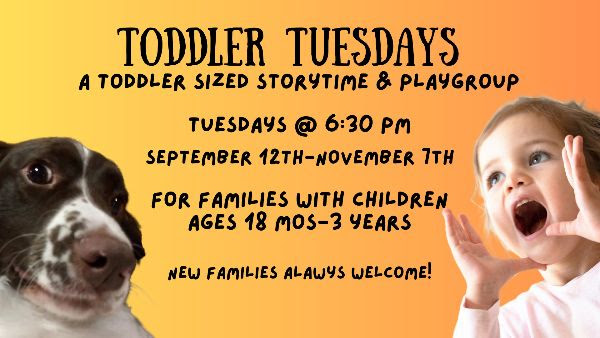 Toddler Tuesday is a toddler sized storytime for families with children ages 18 months-3 years followed by a freeform playgroup in our children's room. Our fall session of Toddler Tuesday runs Tuesdays at 6:30 PM from September 12th through November 7th. New families always welcome!
We are proud to be the home base of the Bellwood-Antis Community Trust committee. The Bellwood-Antis Community Trust meets here on Thursday, September 14th and September 28th at 6:30 PM on both dates. Currently the BACT committee is planning fun Christmas events for the Bellwood-Antis community. New members are always welcome at meetings. Get involved, and help us make the Bellwood-Antis community a better place to live!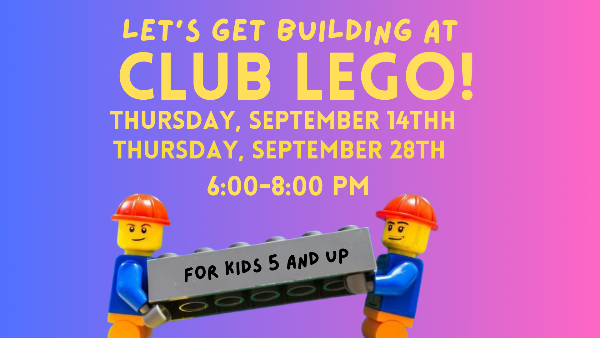 We're goin' up in the Club…THE LEGO CLUB! Club Lego is two hours of Lego freestyling for kids ages 5 and up. Use the library's collection of Lego bricks to build something creative and amazing, and get to know your fellow Legorinos.
Club Lego is free, and no sign-ups are needed, but we ask that an adult stay in the library while children build. September Club Lego sessions are on Thursday, September 14th and 28th from 6-8 PM on both dates.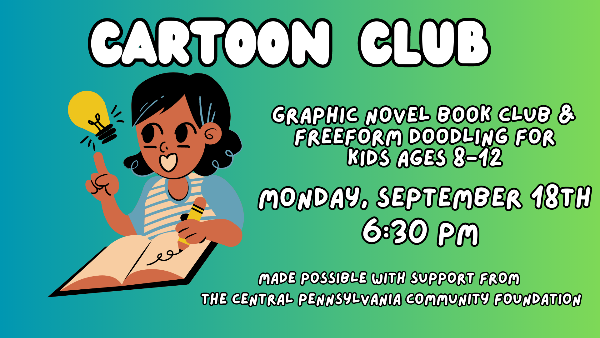 Cartoon Club, our graphic novel book club/drawing club for kids ages 8-12 is on Monday, September 18th at 6:30 PM. Enjoy discussing your favorite graphic novels and freeform doodling at the library. Cartoon Club is made possible with support from the Central Pennsylvania Community Foundation.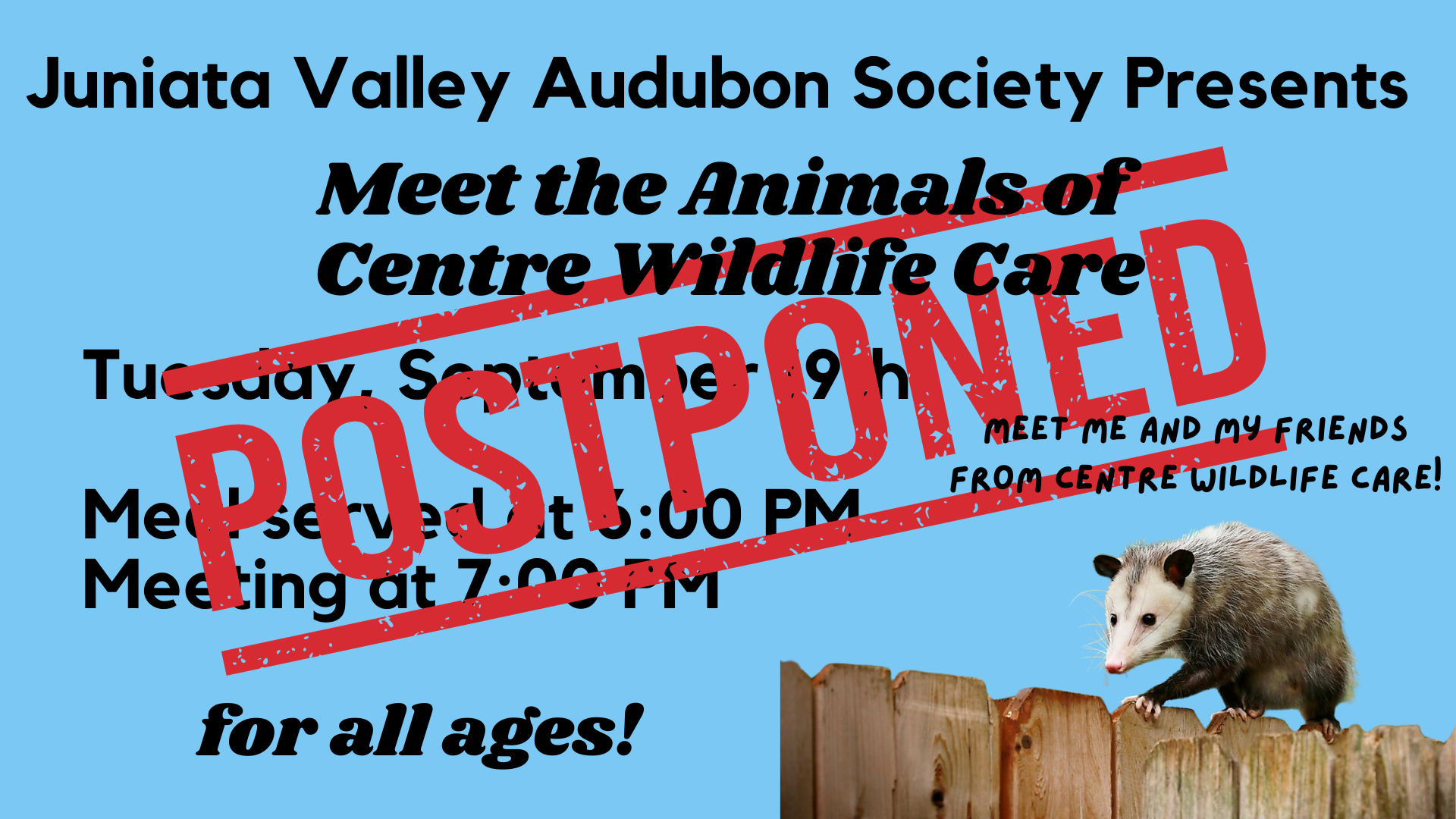 We've just learned from Juniata Valley Audubon Society that the Centre Wildlife Care program scheduled for tomorrow (Tuesday, September 19th) has been postponed. The program will be rescheduled sometime in spring of 2024.
Audubon will still meet, but the presentation at 7 PM will be "Tyroner Travels the World – 12 Lessons Learned"
This interactive talk distills the endless ramblings of a Tyrone-based geographer into a series of lessons on the world. Each lesson is preceded by a series of slides, and the audience tries to guess what the lesson is, and where the pictured places are. Photos go as far back as grainy scanned slides from 1986, and range across six continents. At the end is a geography quiz just to keep you on your toes. All are welcome at Audubon meetings. A complementary meal is served at 6 PM with the program to follow at 7 PM. People who don't want the meal are welcome to come at 7.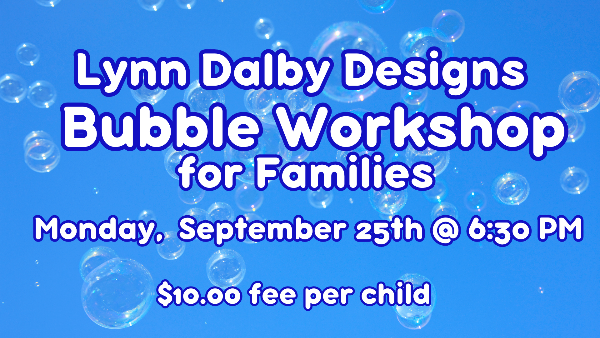 Lynn Dalby Designs is back at the library on Monday, September 25th at 6:30 PM to teach families the secrets of bubble magic in a workshop for parents and children ages 4 and up. Learn how to make giant bubbles, touchable bubbles, and more!
There is a $10 materials fee for this workshop. To sign your child up, message the library on Facebook, e-mail bellwoodantispubliclibrary@gmail.com or call us at 814-742-8234.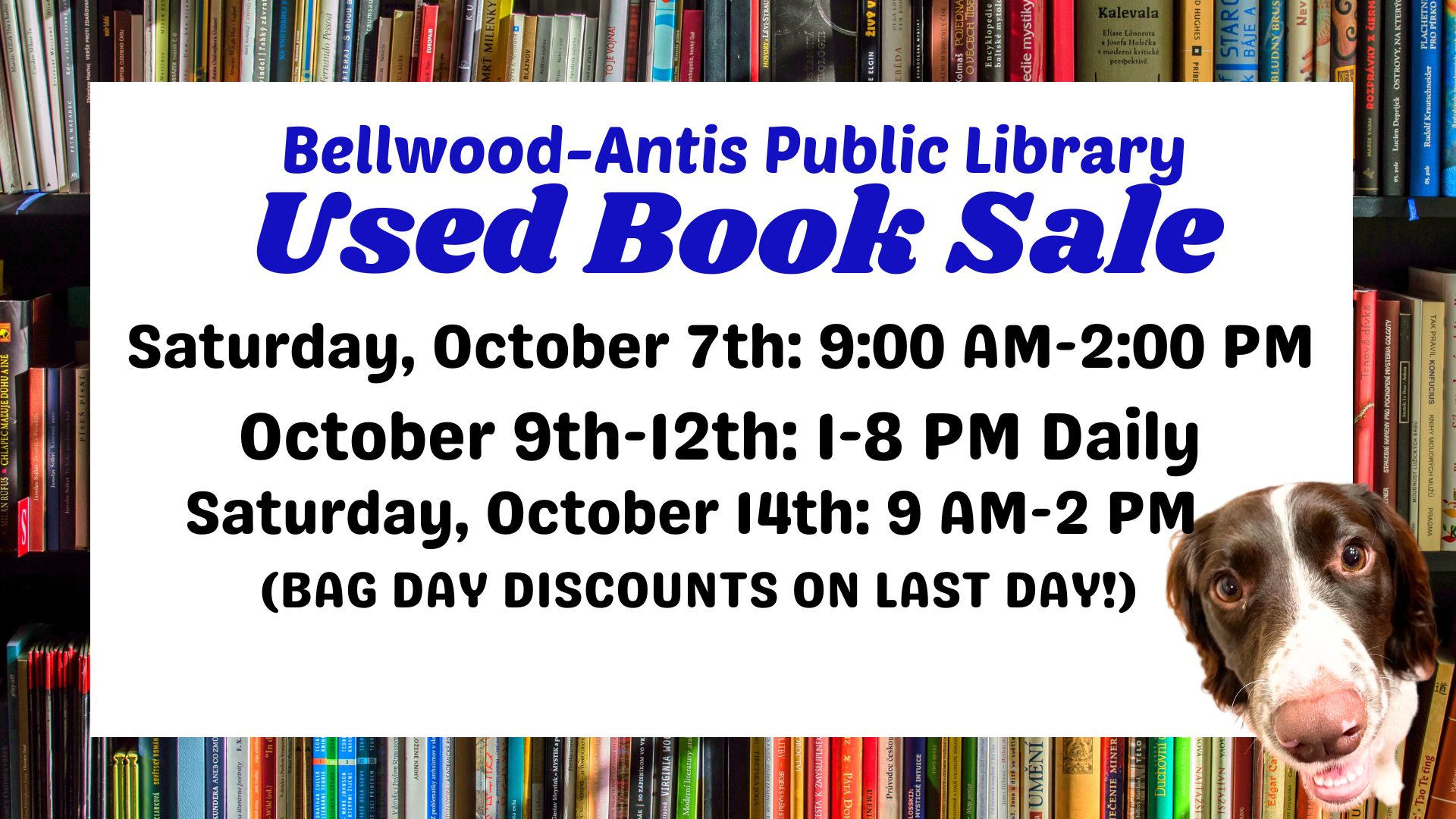 The Bellwood-Antis Public Library's Fall Used Book Sale begins on Saturday, October 7th from 9 AM-2 PM and continues during regular library hours the following week: Monday-Thursday from 1-8 PM daily from October 9th-12th. The sale concludes on Saturday, October 14th with Bag Day discounts from 9 AM-2 PM. Shop two rooms of gently used books of all kinds, plus movies, music, puzzles, and games. All proceeds benefit the library.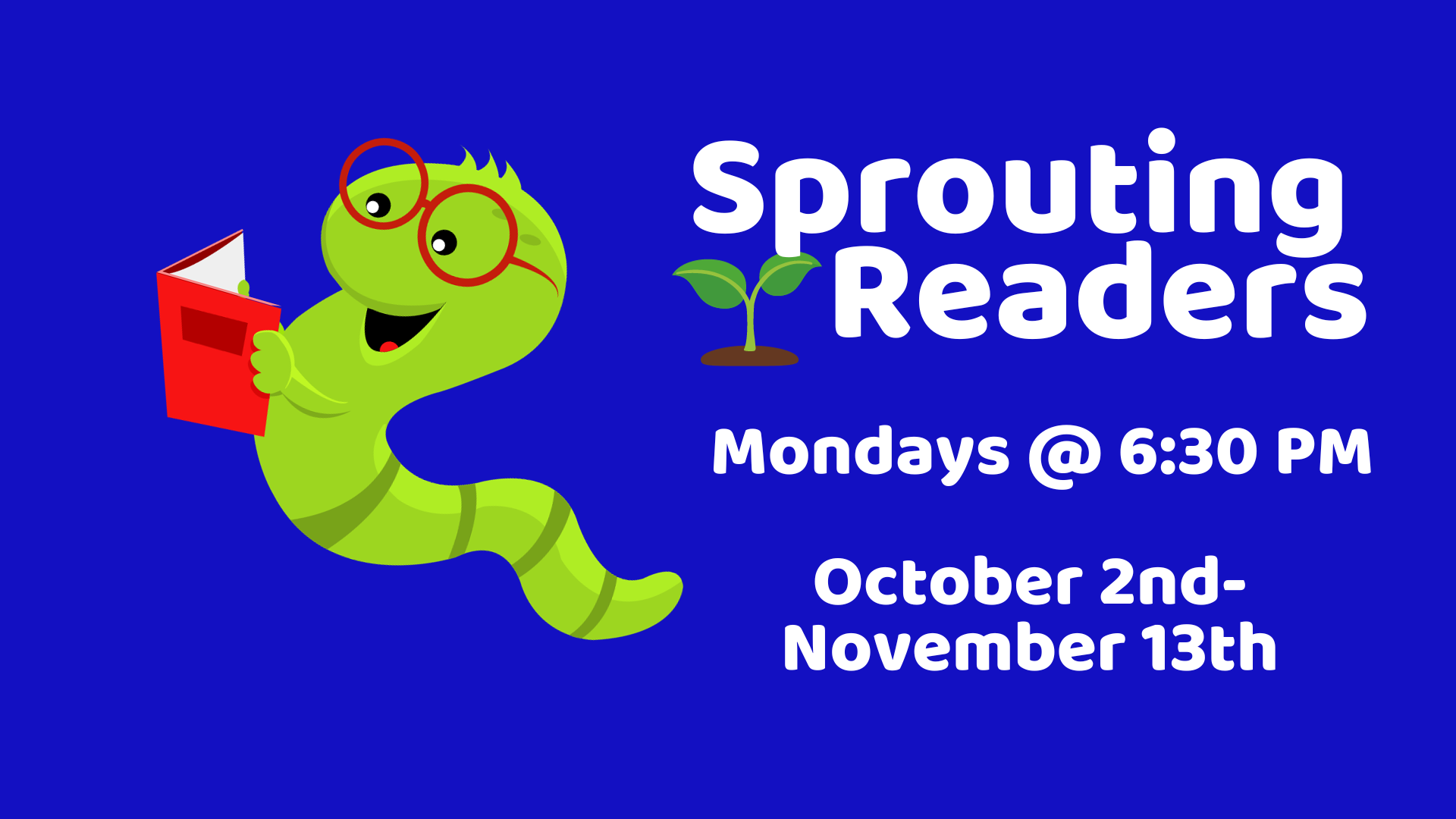 Sprouting Readers is a weekly storytime for families with children ages 5 and up (younger siblings are welcome, but will need help from a grown-up to complete craft activities). Join us and special guest readers every Monday at 6:30 PM from October 2nd through November 13th for stories, crafts, and lots of fun at the library that will help you teach your children to love reading and learning.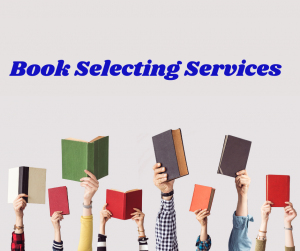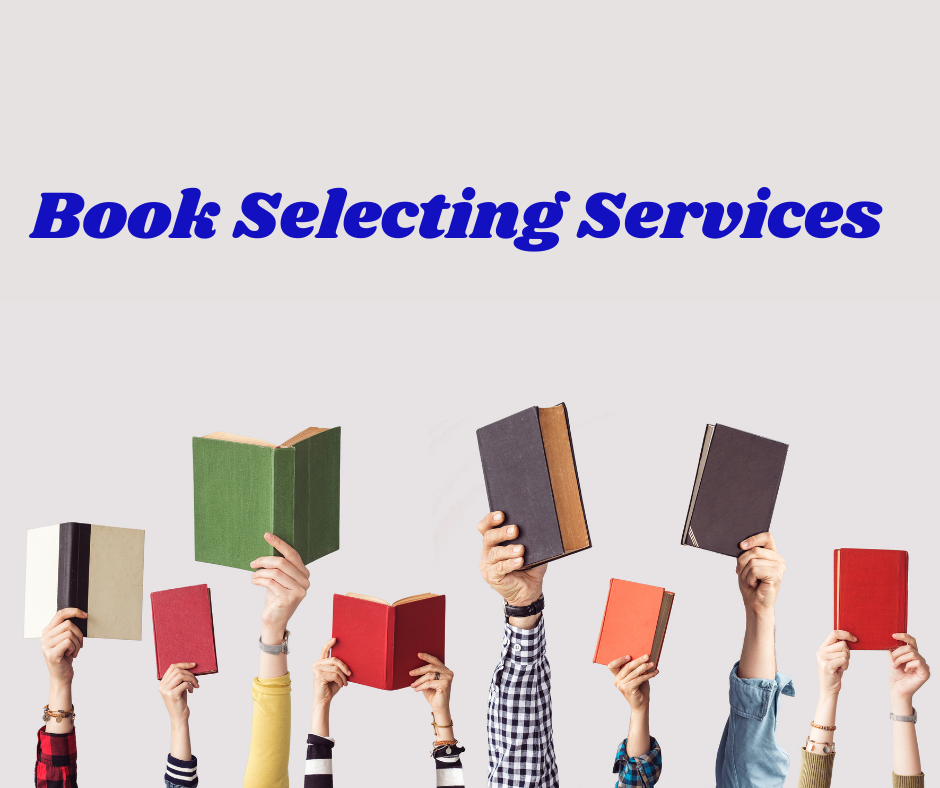 Teachers, parents, homeschoolers, and anyone else who wants to read to children or help children read: we are happy to put together themed collections of books you can take home or use in the classroom! Your wish list of books can be as general as "I need books on snowflakes" or you can request specific titles by using our online catalog at https://bellwood-antis.sparkpa.org/. Give us 2-4 weeks in advance, and we can also order your books from libraries in Blair, Bedford, Cambria, Huntingdon, and Lackawanna Counties. To get started, talk to a librarian, or e-mail your requests to bellwoodantispubliclibrary@gmail.com.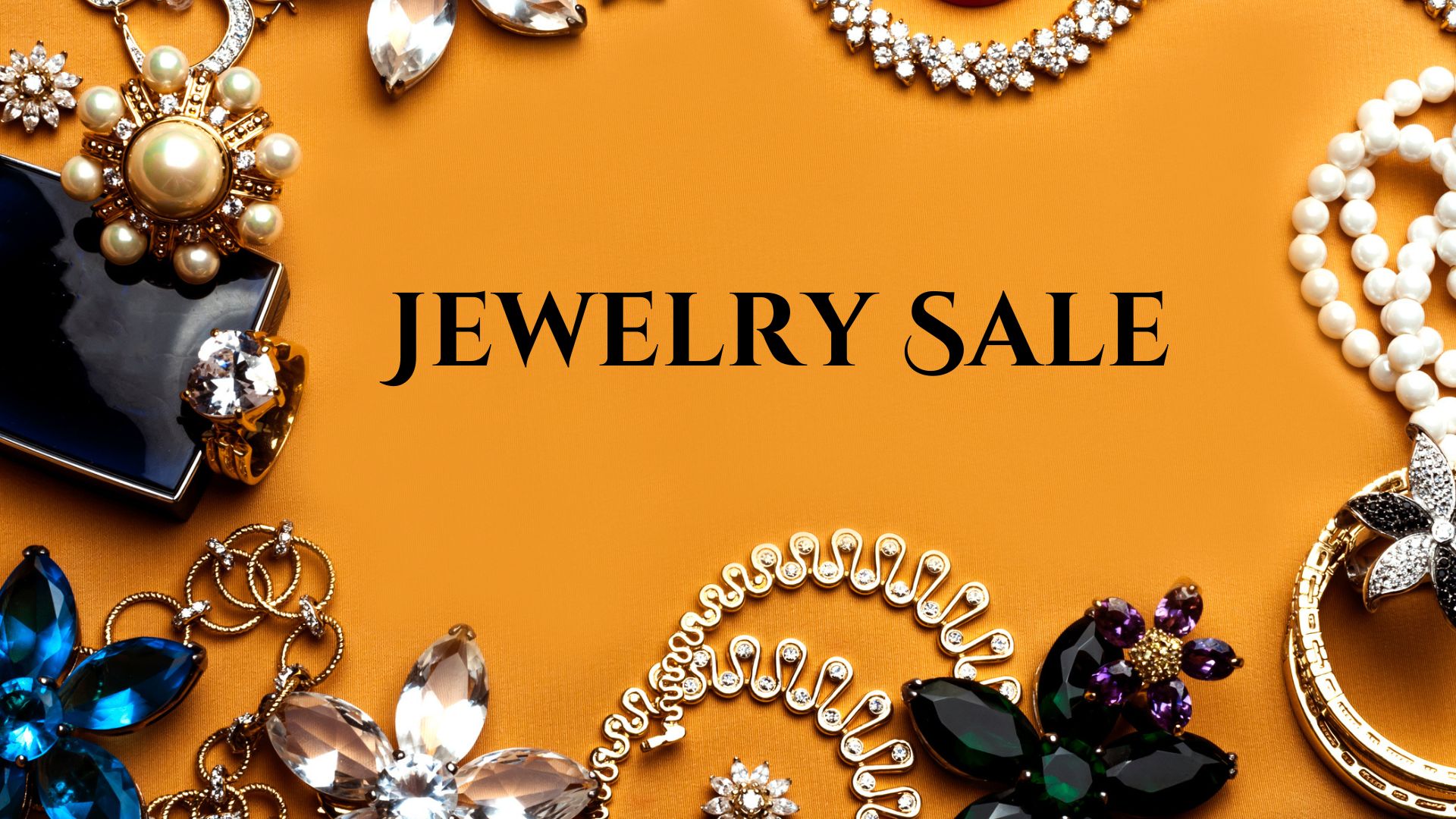 The library's ongoing costume jewelry sale is your one stop shop for affordable bling! We have vintage pieces, signed pieces, and as-is odds and ends ideal for crafters. All jewelry is for sale for a freewill donation. Shop anytime the library is open: 1-8 PM Monday-Thursday and Saturdays from 9 AM-2 PM. Donations of used and new costume jewelry for this ongoing fundraiser are appreciated. Drop off donations anytime the library is open.
The library is home to a number of community organizations with meetings and programs that are open to the public. Visit our community meetings page for information on these programs.