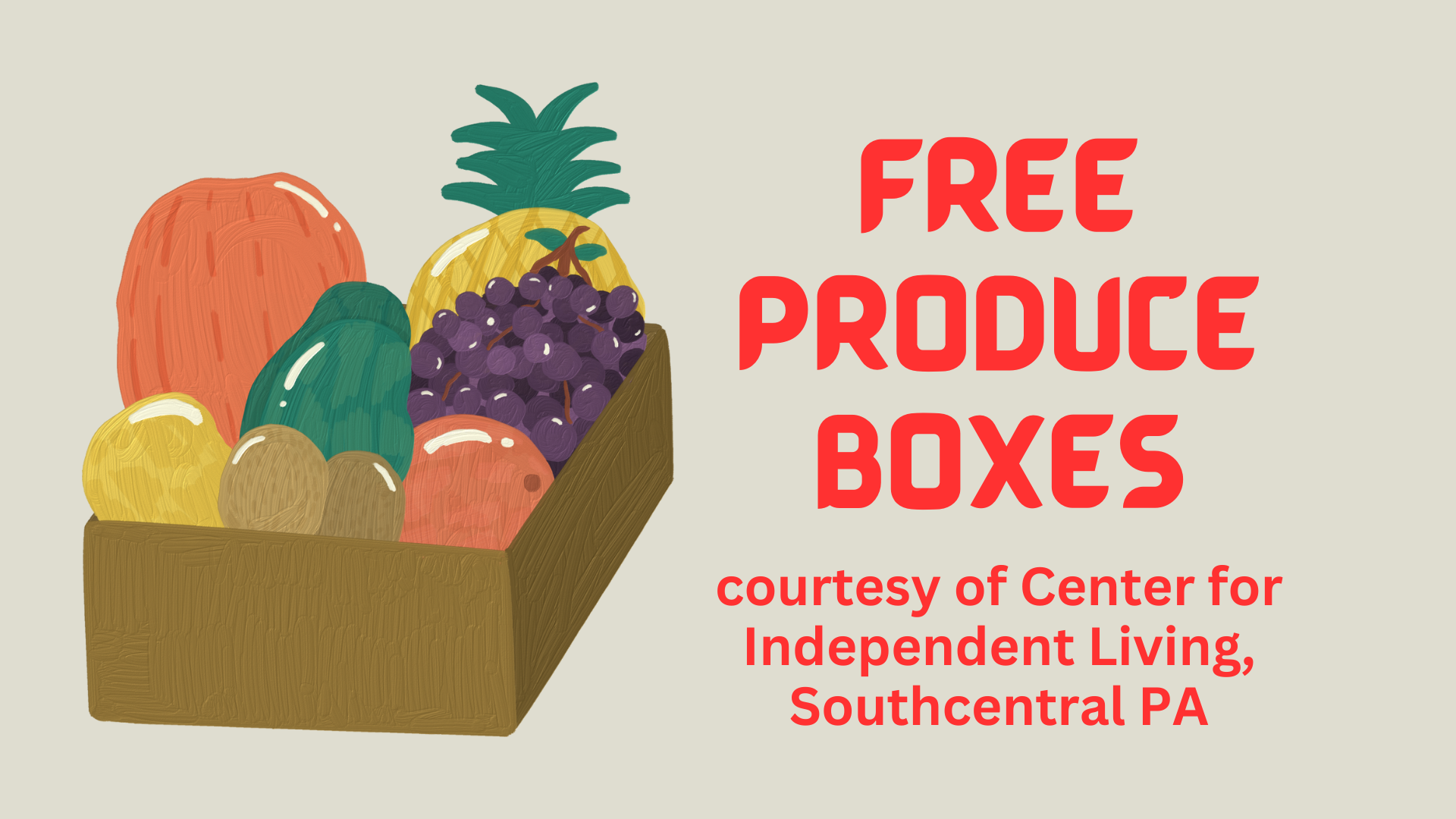 The library has teamed up with the Center for Independent Living of Southcentral PA to distribute FREE produce boxes each week. Boxes, which contain a variety of fresh vegetables and fruits, are available on a first come, first serve basis. There are no income or address guidelines for the boxes: anyone is free to take one if they need it. Boxes usually arrive midweek–watch our Facebook page for information on the latest delivery and availability.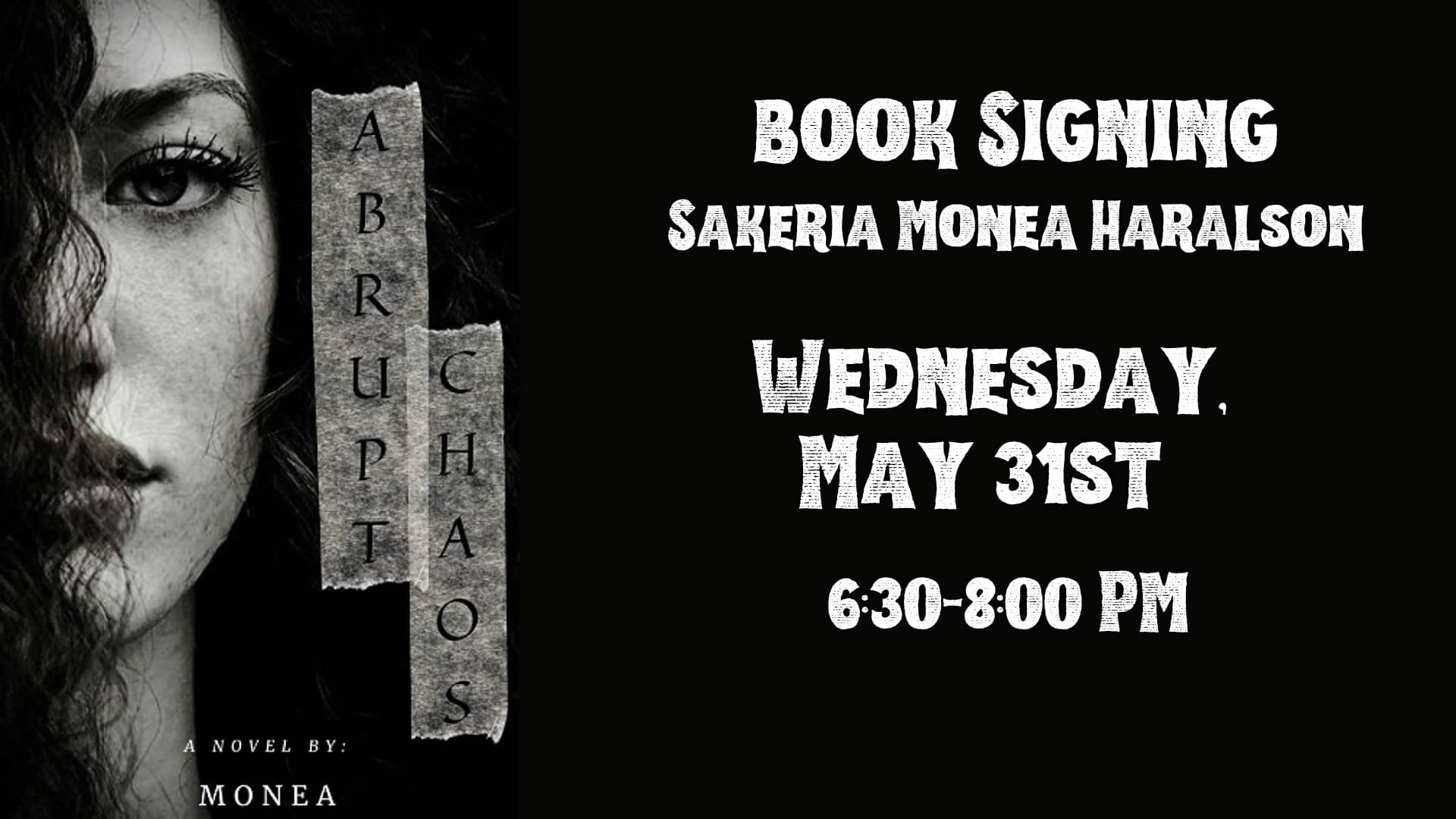 Author Sakeria Haralson is signing and selling copies of her new book ABRUPT CHAOS at the library on Wednesday, May 31st from 6:30-8:00 PM. Abrupt Chaos is the story of Remi Larson, a teenage girl who believes she is responsible for her mother's death. Things are flipped upside down for Remi and all she wants is for things to go back to normal. But how can normal be achieved in the center of chaos? Get a signed copy of the newest release from this local author!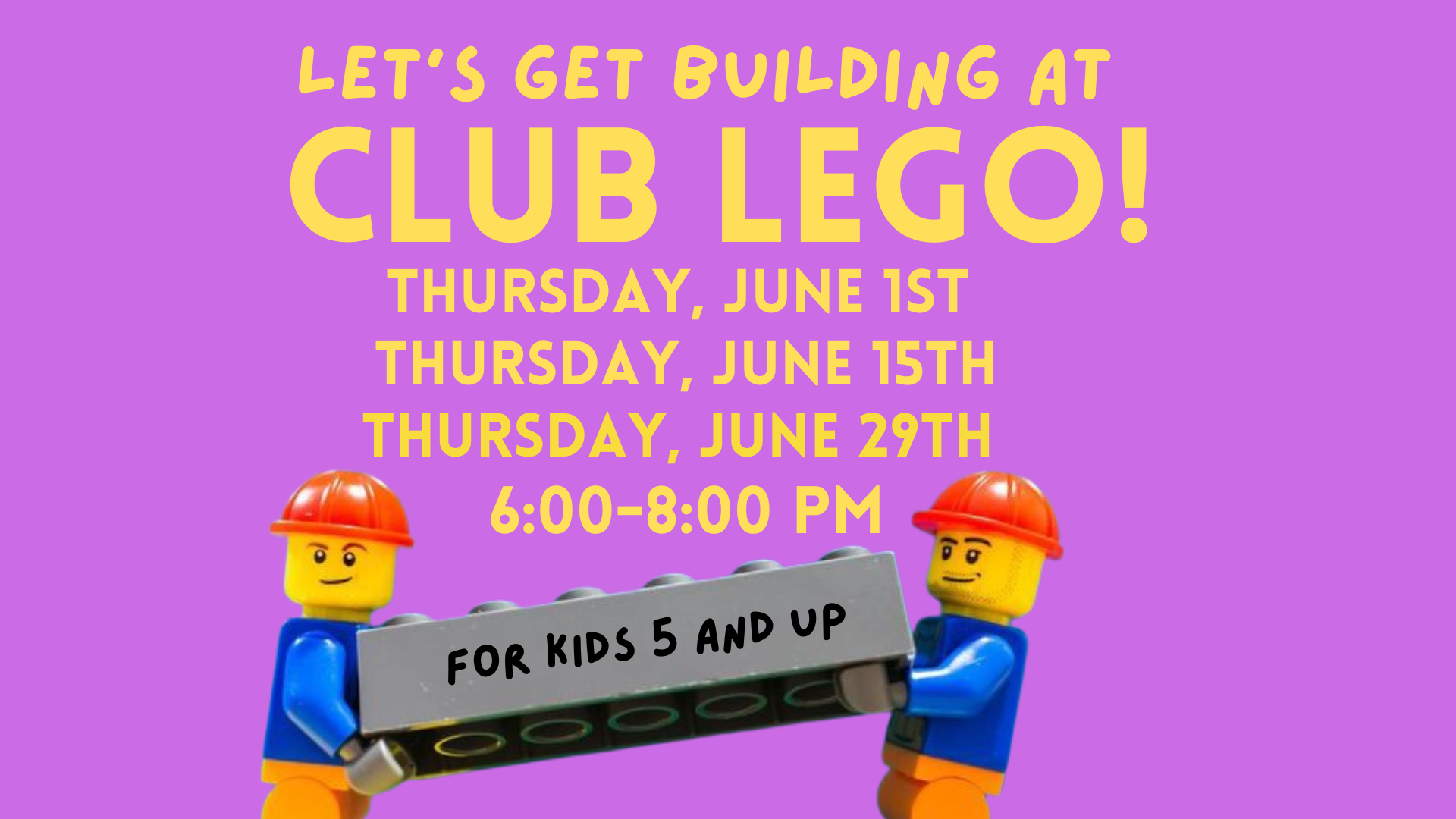 Kids ages 5 and up are invited to join the June Club Lego sessions on Thursday, June 1st, 15th, and 29th from 6-8 PM. Get creative and hang out with your fellow Lego lovers! This program is free, and no signs up are needed, but we ask that parents stay in the library while children build.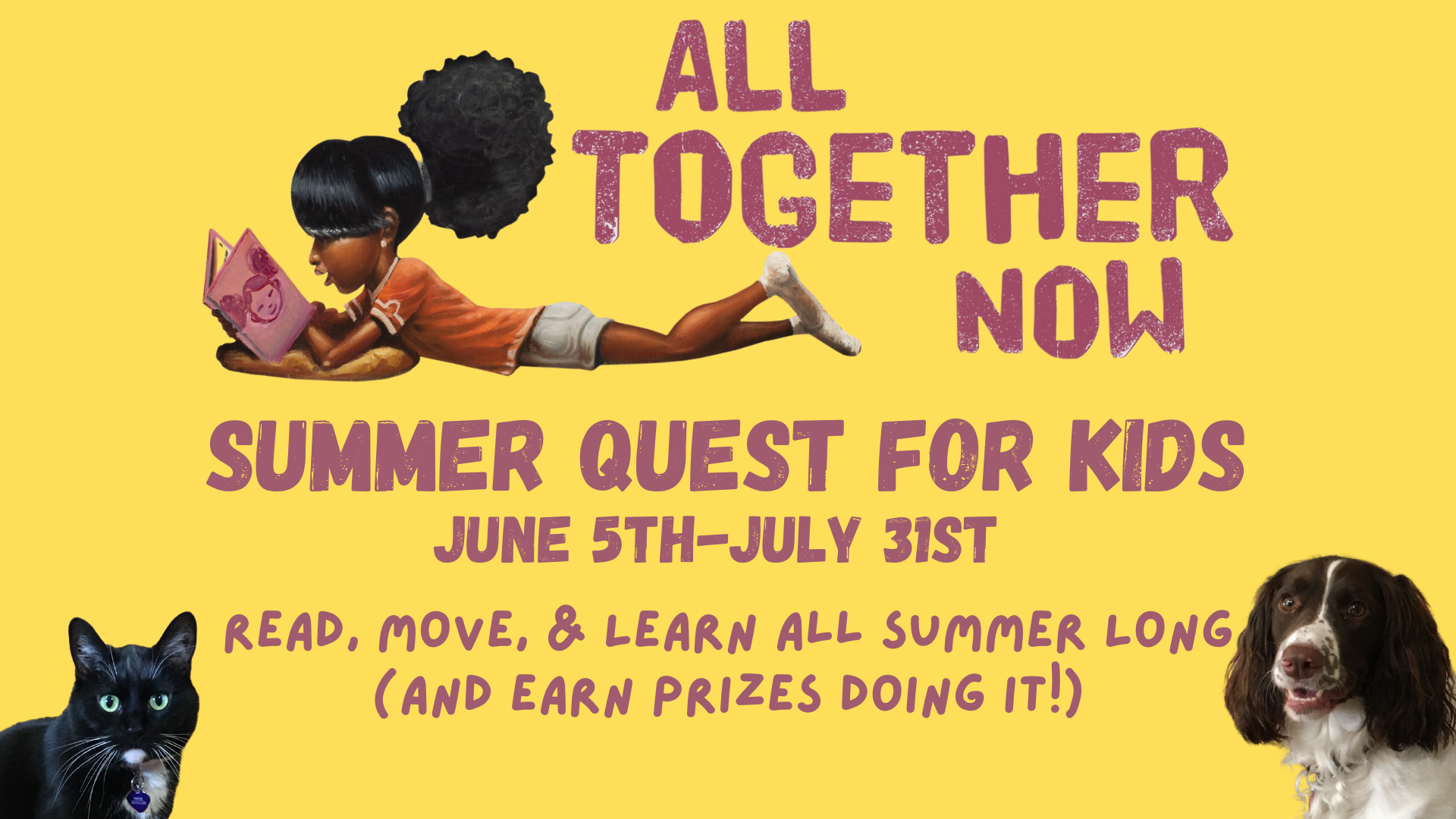 The ALL TOGETHER NOW Summer Quest (the Summer Program for Kids formerly Known as Summer Reading) begins June 5th and continues through July31st. Kids earn prizes for reading and completing a log of activities designed to keep them reading, moving, and learning all summer long. Sign up at the checkout desk starting June 5th.
The Blair County Library System encourages families to visit all eight libraries in Blair County on a Summer Quest Treasure Tour! Get your map at the checkout desk, and start earning prizes at every library in the county!
Visit all eight libraries and turn in your map to be entered into a grand prize drawing. Maps are due by August 15th.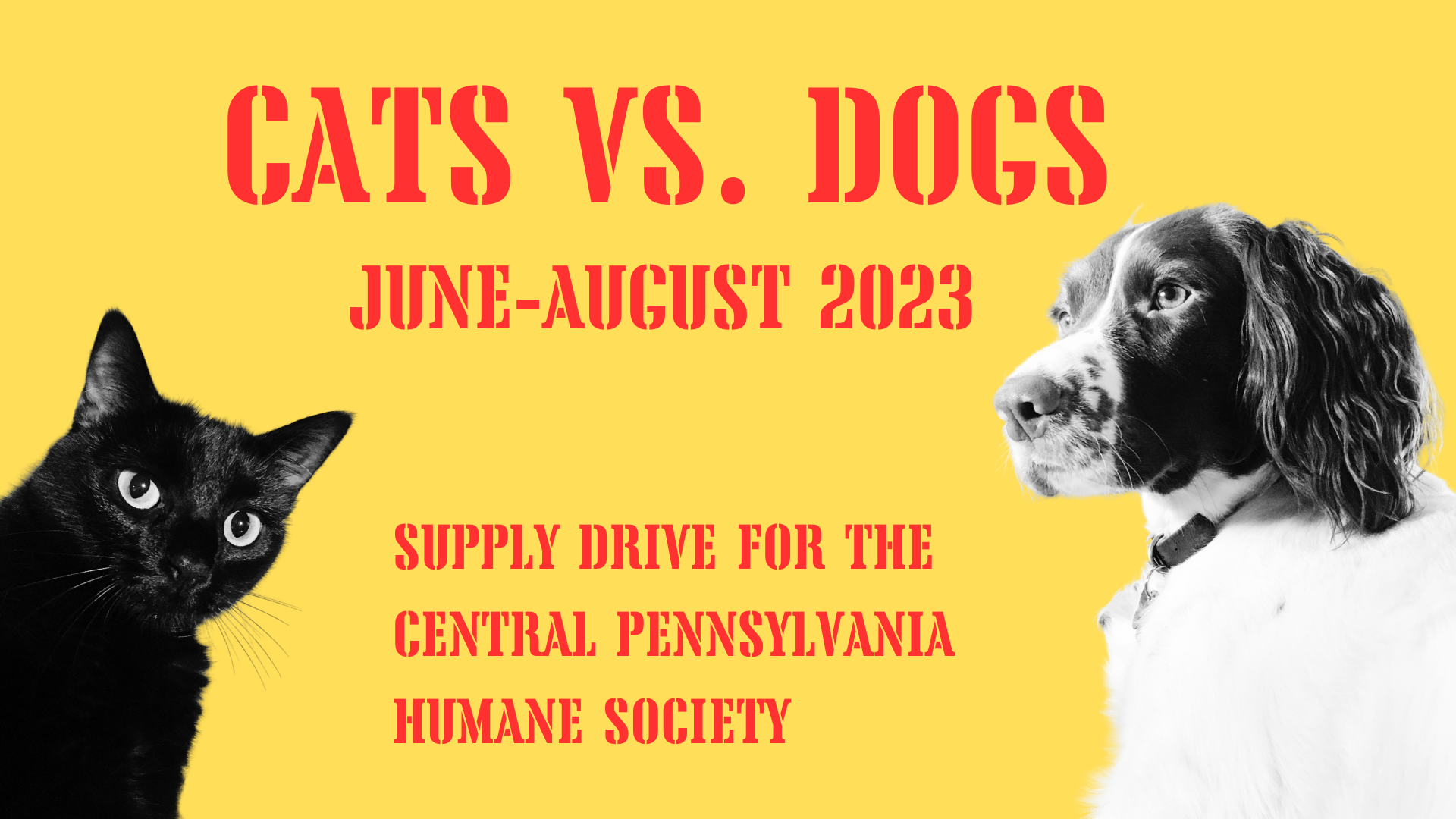 The 3rd Annual Cats vs. Dogs Interactive Supply Drive for the Central Pennsylvania Humane Society begins in June and continues through August. Each donation: a vote for your favorite pet! May the best pet win! See a list of items the shelter needs here.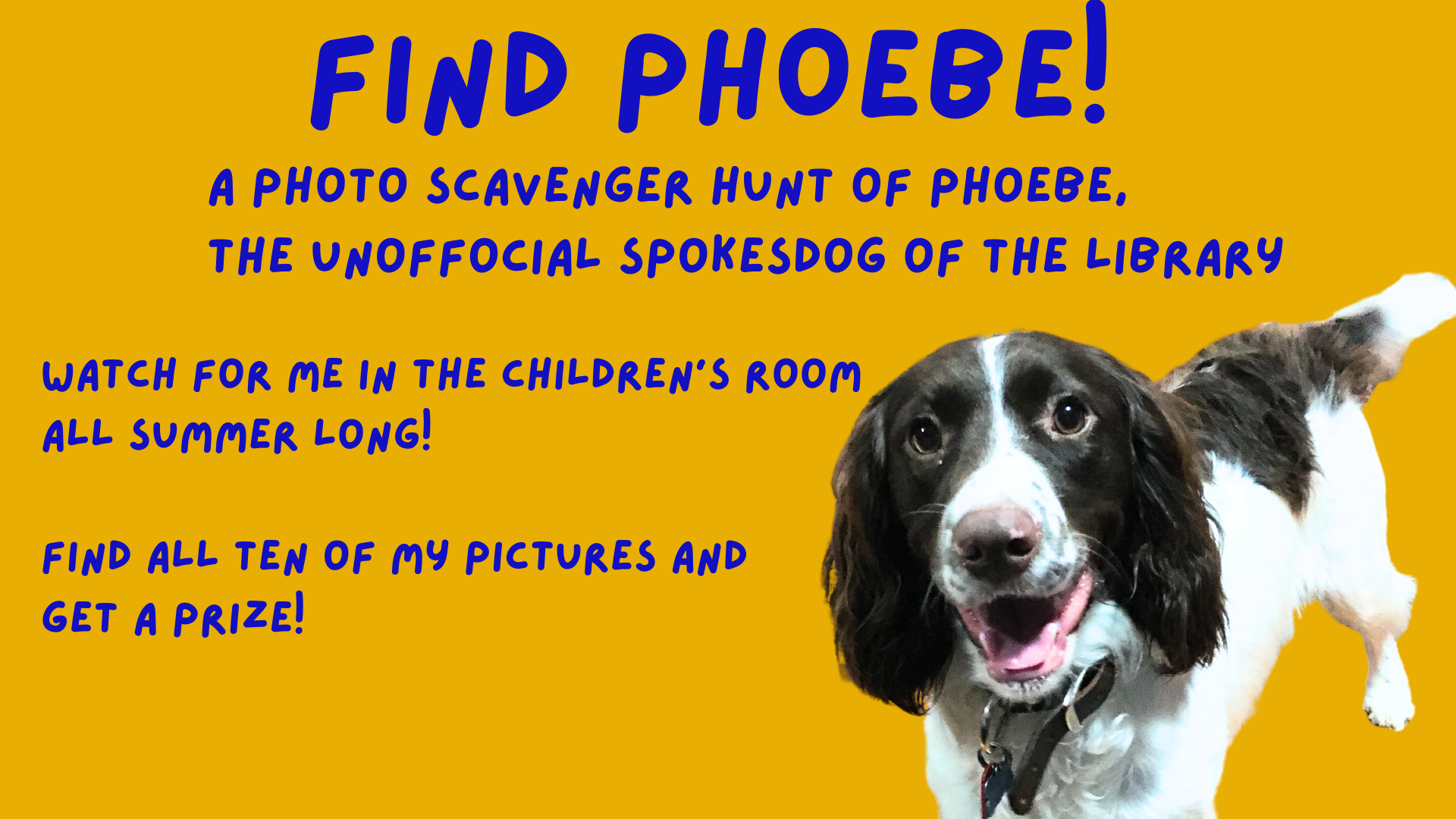 Starting on 6/5/2023 and continuing all summer, kids can go on a photo scavenger hunt to find Phoebe, the library's unofficial spokesdog. Find all ten pictures of Phoebe hidden in the children's room, and win a prize!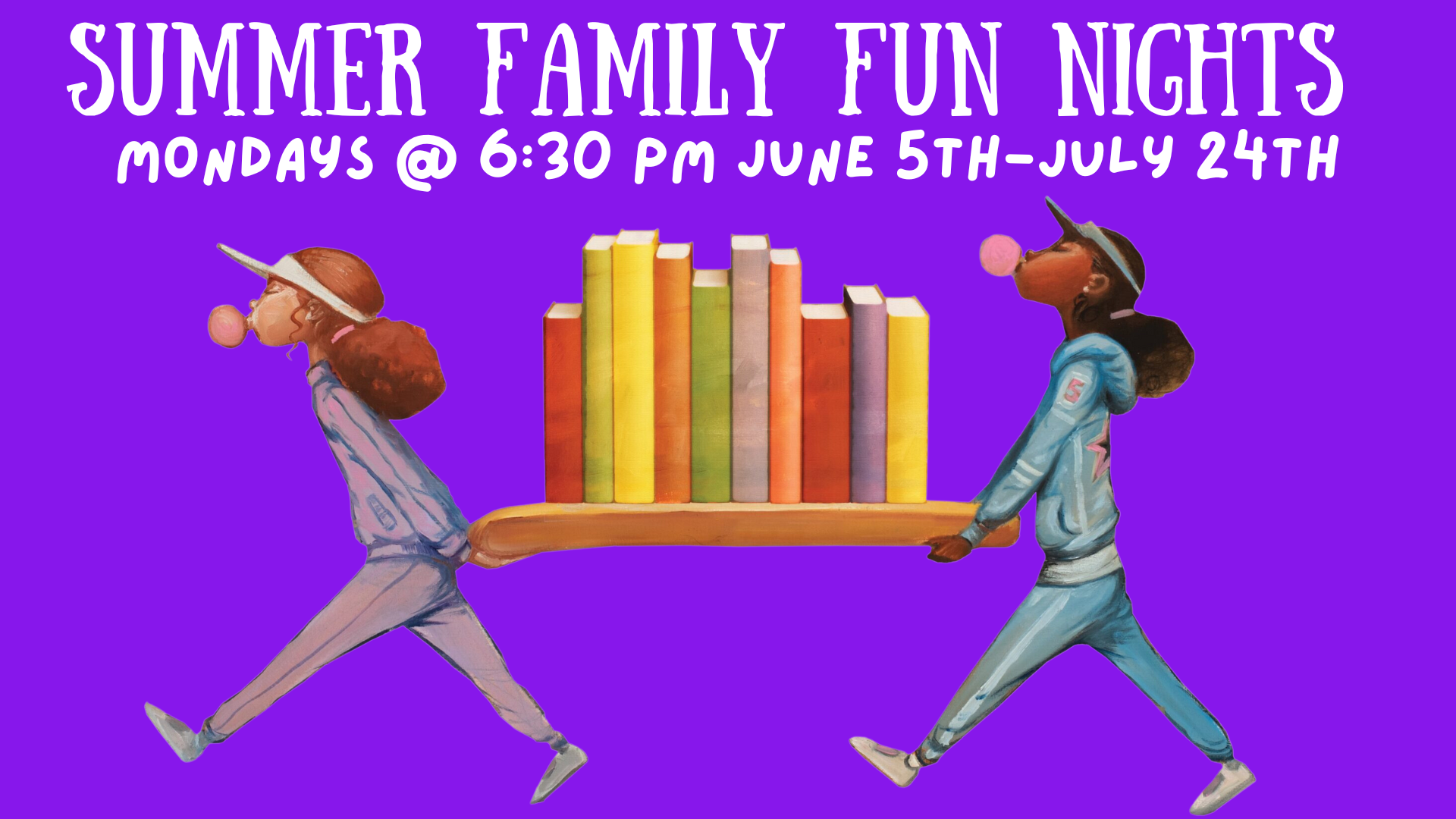 Summer Family Fun Nights are Mondays at 6:30 PM from June 5th through July 24th. Enjoy stories, crafts, and other fun activities for kids of all ages. Very young children will need help from an adult to complete craft activities. This program is free, and no sign-ups are needed.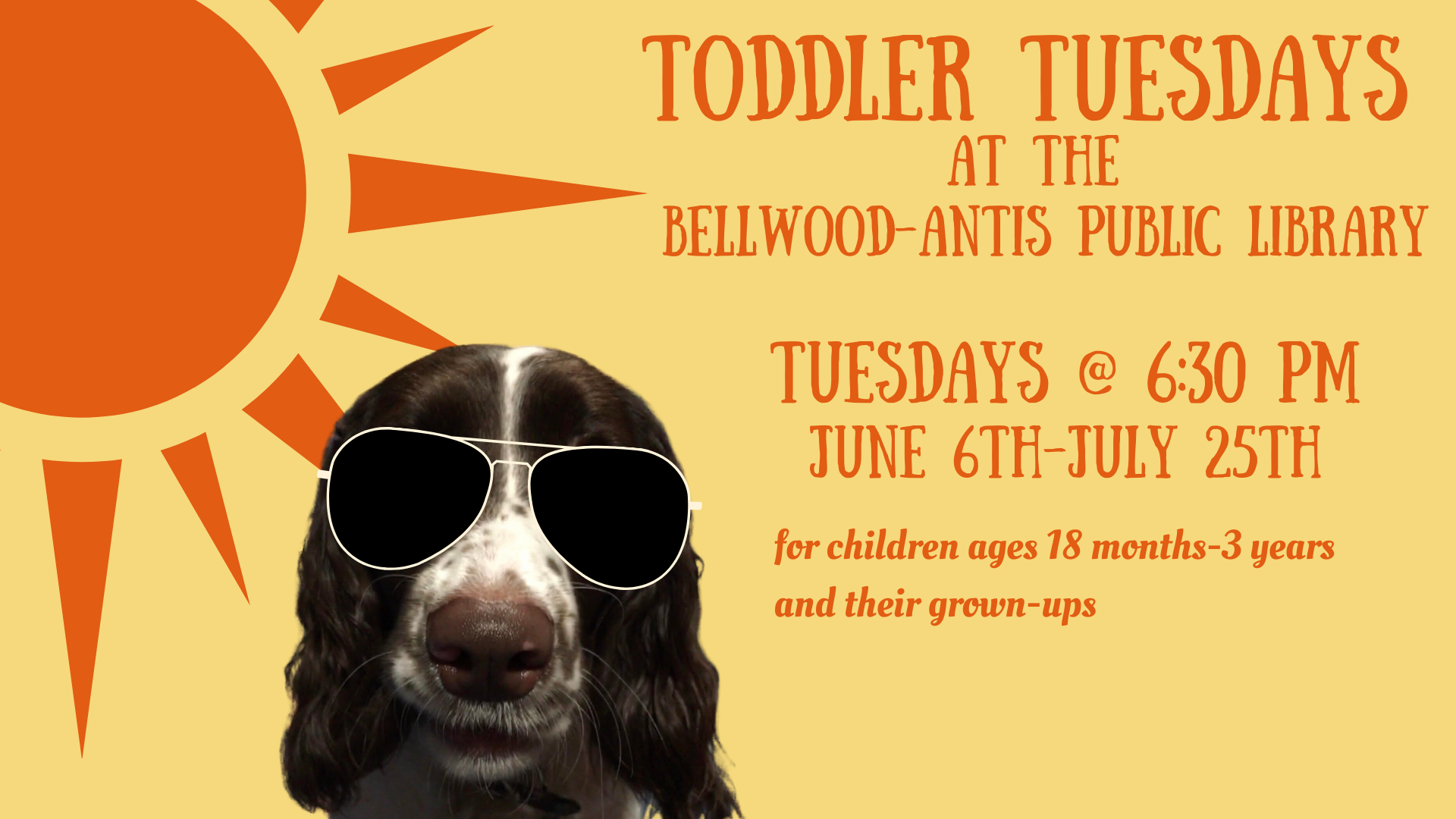 Our Summer Toddler Tuesdays begin on Tuesday, June 6th at 6:30 PM and continue every Tuesday (excepting the 4th of July) through July 25th. Toddler Tuesday is a toddler sized storytime for children ages 18 months-3 years and their families. Enjoy stories, songs, feltboard time, and nursery rhymes with Miss Jessica, followed by a playgroup in the library's children room. No sign-ups needed, new families always welcome!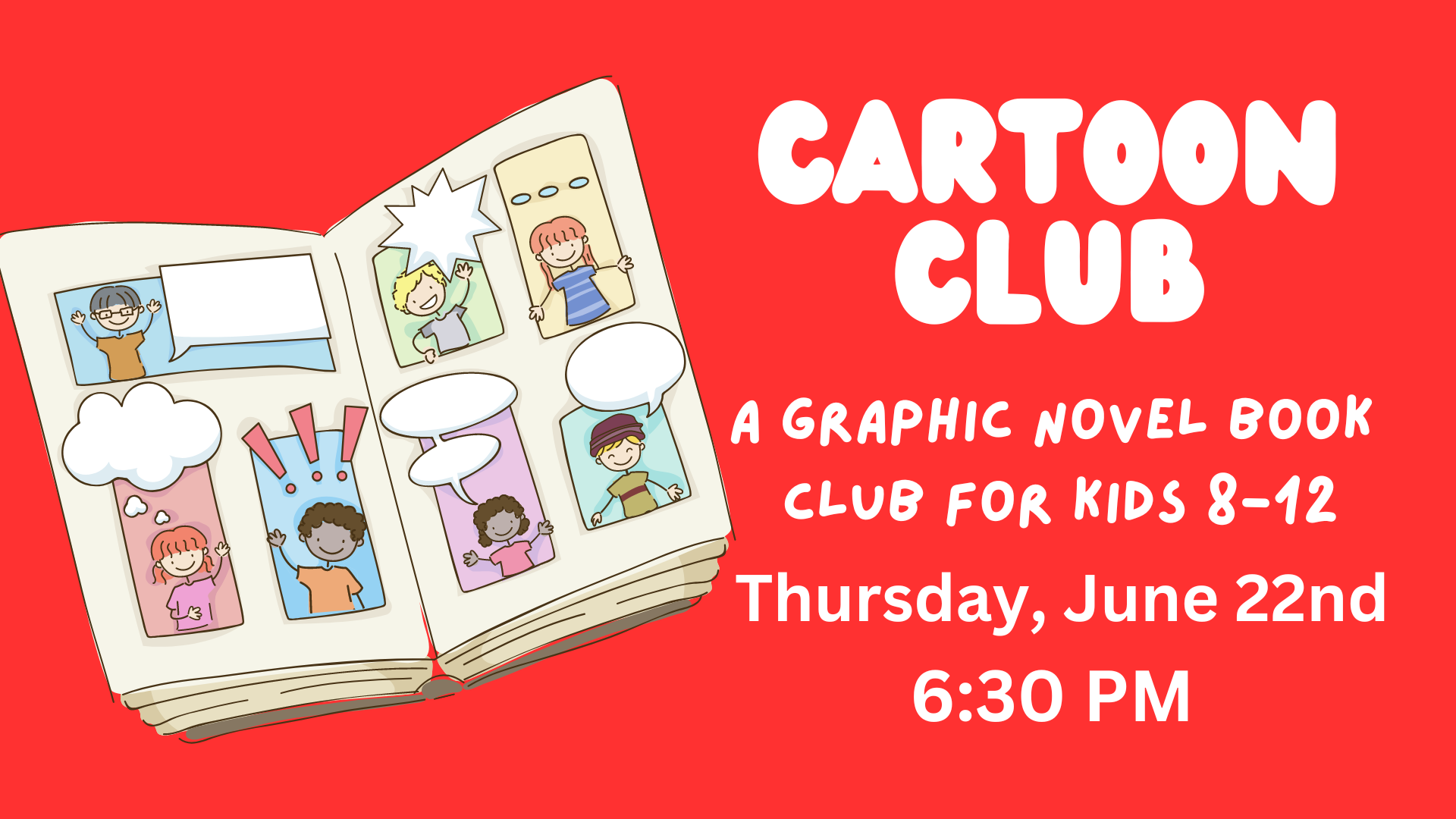 Kids ages 8-12 are invited to Cartoon Club, a meetup for kids who love graphic novels. Discuss your favorite graphic novels with other fans, learn about new titles and artists, and maybe start to draw your own cartoon stories! The fun starts at 6:30 PM on Tuesday, June 22nd. Come prepared to talk about your favorite graphic novels. Examples of graphic novels include Diary of a Wimpy Kid, Dog Man, anything by Raina Telgemeier, and many others.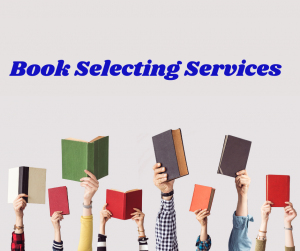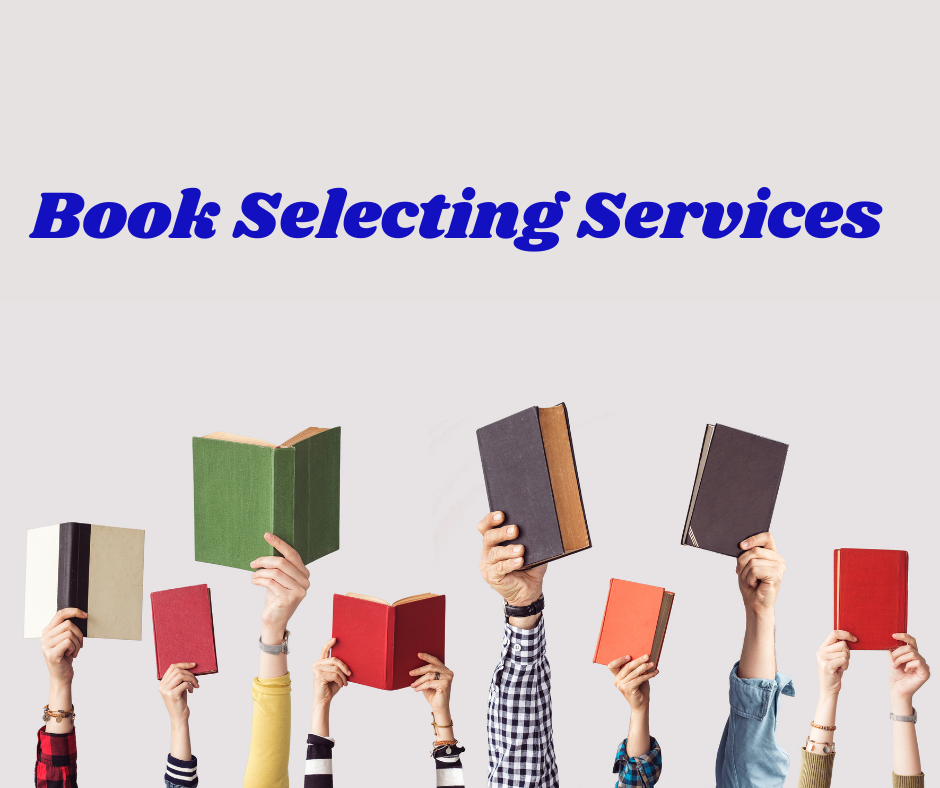 Teachers, parents, homeschoolers, and anyone else who wants to read to children or help children read: we are happy to put together themed collections of books you can take home or use in the classroom! Your wish list of books can be as general as "I need books on snowflakes" or you can request specific titles by using our online catalog at https://bellwood-antis.sparkpa.org/. Give us 2-4 weeks in advance, and we can also order your books from libraries in Blair, Bedford, Cambria, Huntingdon, and Lackawanna Counties. To get started, talk to a librarian, or e-mail your requests to bellwoodantispubliclibrary@gmail.com.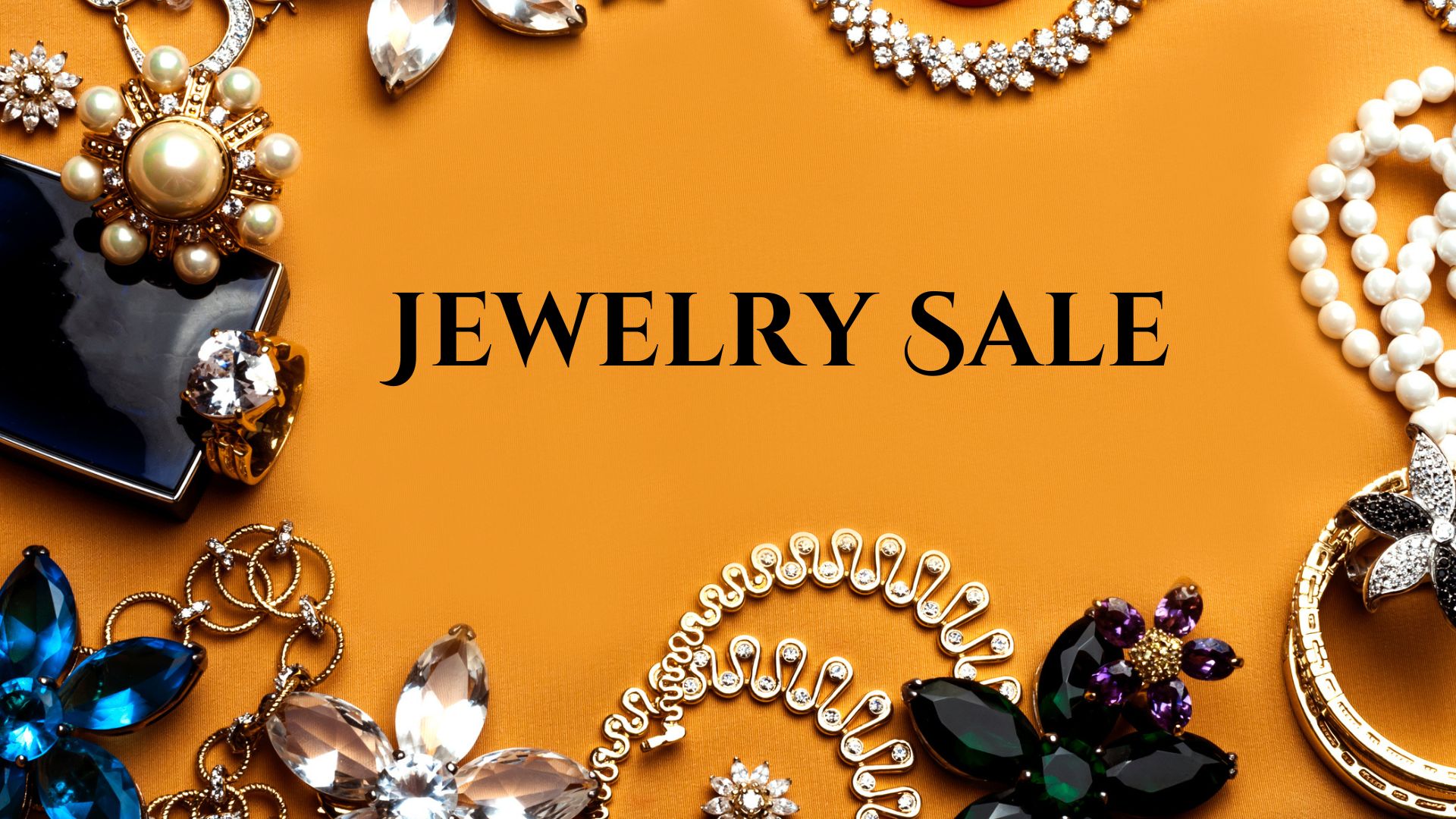 The library's ongoing costume jewelry sale is your one stop shop for affordable bling! We have vintage pieces, signed pieces, and as-is odds and ends ideal for crafters. All jewelry is for sale for a freewill donation. Shop anytime the library is open: 1-8 PM Monday-Thursday and Saturdays from 9 AM-2 PM. Donations of used and new costume jewelry for this ongoing fundraiser are appreciated. Drop off donations anytime the library is open.
The library is home to a number of community organizations with meetings and programs that are open to the public. Visit our community meetings page for information on these programs.