REGULAR EVENTS 
For safety reasons, we've canceled regular children's programs inside the library, but we post  Challenges kids can do from home on our Facebook page, and regular online storytime videos. Watch storytime videos at https://www.facebook.com/pg/BellwoodAntisPublicLibrary/videos/?ref=page_internal. We'll be doing outdoor programs for kids at the Bellwood-Antis Community Park throughout the summer. Read on for more details, or visit our Facebook page.
SPECIAL EVENTS & SERVICES
Registration for the Tails & Tales Summer Quest for kids begins on Monday, June 14th. Register your children at the library anytime we're open (Monday-Thursday from 1-8 PM and Saturdays from 9 AM-2 PM) or online at
https://blaircountylibraries.beanstack.org/
.
Summer Quest is formerly known as the Summer Reading Program–in addition to earning prizes for reading during the summer, your child can earn additional prizes by completing activities. Summer Quest encourages kids to read, move, and learn all summer long!
Author, retired animal cruelty officer, and ordained Animal Chaplain Matty Giuliano reads his book My Name is Musky! at a special program on Thursday, July 8th at 6:30 PM at the Amato Pavilion at Bellwood-Antis Community Park. My Name is Musky! is the story of a abandoned ferret who finds a new home with the help of a animal shelter. We'll be raffling off a stuffed Musky at the program.
Local author Marian Dietz reads her children's book The Tater Family Vacation at a free program at the Amato Pavilion at Bellwood-Antis Community Park on Tuesday, July 20th at 6:30 PM. The Tater Family Vacation is the story of a family of potatoes who learn the importance of protecting your skin from the sun. Don't get baked, and join the fun!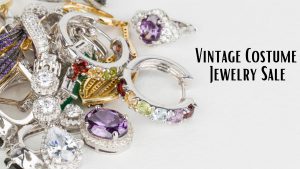 The library's vintage costume jewelry sale is your one stop shop for affordable vintage bling! We have signed pieces, as-is odds and ends ideal for crafters. All jewelry is for sale for a freewill donation. Make an appointment to shop anytime the library is open: noon-5 Monday-Thursday and Saturdays from 9 AM-2 PM. Donations of used and new costume jewelry for this ongoing fundraiser are appreciated, and can be dropped off anytime the library is open.
The Seed Library is open for the 2021 growing season! Thanks to a generous grant from the GFWC Hollidaysburg Area Women's Club and donations from local gardeners, the library has free seeds you can take home and grow. Available seeds are: basil, cucumber, kale, lettuce, marigolds, sunflowers, onions, spinach, sugar snap peas, Swiss chard, tomatoes, zucchini, annual cutflowers, alyssum, columbine, zinnia, gypsophila, nasturtium, and sweet pea. Seeds can be picked up any the time library is open (Monday-Thursday from noon-5 PM and Saturdays from 9 AM-2 PM). If you want contactless pickup of seeds, e-mail your request to bellwoodantispubliclibrary@gmail.com. Watch our Facebook page for updates on new seed availability.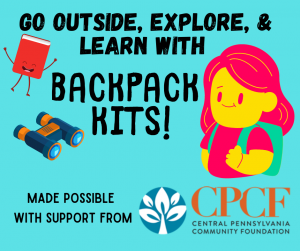 We are very excited to announce our new backpack kits for families: packed with books and other goodies such as cameras, binoculars, scavenger hunt cards, and more, these kits will help your family get outside, explore, and learn at local parks and nature trails! There are five backpack kits available with the following themes: train watching, Pennsylvania wildlife, bugs & butterflies, rocks & minerals, and exploring nature. Backpack kits are available at the checkout desk. Check one out today!
These kits were made possible with generous support from the Central Pennsylvania Community Foundation. For more information about this Community Foundation, visit centralpagives.org.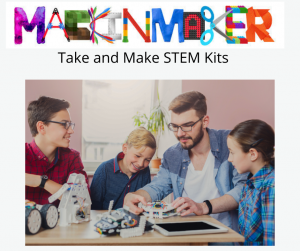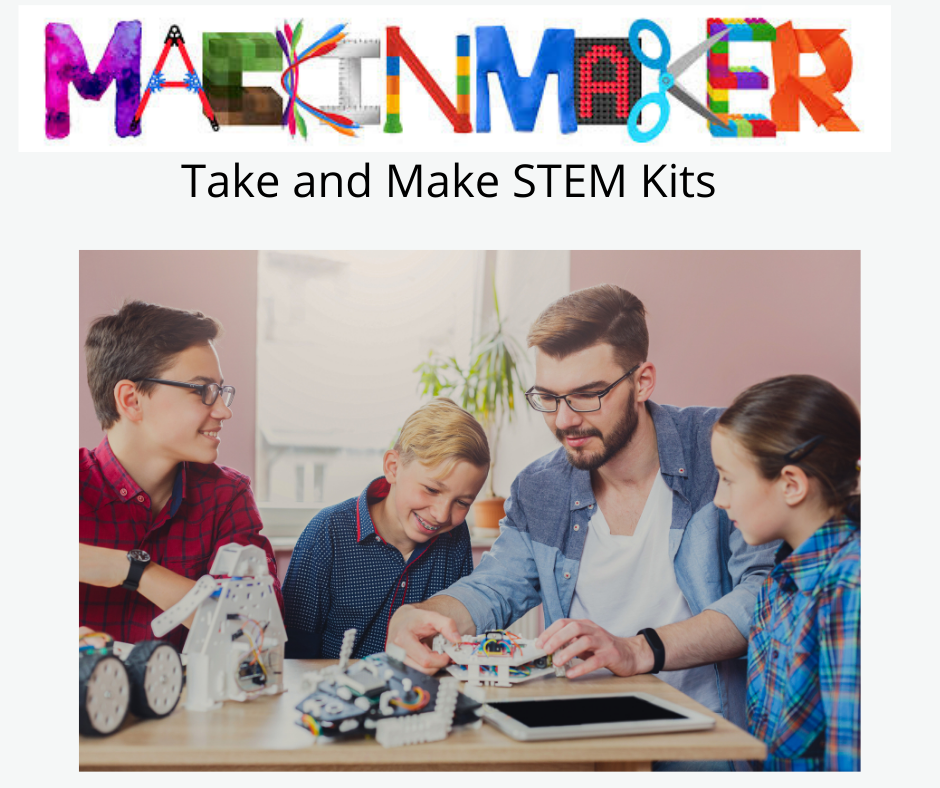 MackinMaker STEM kits are now available at the library. These fun kits combine books and hands-on STEM activities children can do at home. Kits for grades Pre-K-12 are available at the library checkout desk. CSB2 STEM Ecosystem school and library MackinMaker Kits are made possible by a PAsmart grant from the Pennsylvania Department of Education and the Commonwealth of Pennsylvania, Tom Wolf, Governor.
We are offering families customized grab and go book bags with books on children's favorite characters and subjects. To request a book bag for your family, e-mail a list of your children's favorite characters, subjects to read about, or series to bellwoodantispubliclibrary@gmail.com. If you would like to request specific titles, visit our online catalog at https://bellwood-antis.sparkpa.org/eg/opac/home.
Free e-books for children are also available on our website. Visit http://bapl.lib.pa.us/index.php/resources/ for access to free e-books collections.
Sips & Sacks in the Stacks has been postponed until sometime in mid to late 2021. Watch our Facebook page for updates.
Due to ongoing concerns about Coronavirus, the library's spaghetti dinner fundraiser has been postponed until 2021. Any sold tickets will be honored at the rescheduled dinner. Please watch our Facebook page and website for information on the new date.
The library is home to a number of community organizations with meetings and programs that are open to the public. Visit our community meetings page for information on these programs.